Credits
Authors: Julien Coquet / Gael Chevailler
Film director : Julien Coquet
Image / Editing : Julien Coquet
Production : Julien Coquet, Dynamo Production
Script : Gael Chevailler, Julien Coquet, & the children of Tengrela after an oral dioula tale
Cast : Bétine Somé, Karim Sagnon, Yaya Sagnon
Music : Seydou "Kanazoé" Diabaté
Voix-over : Seydou Tou
Technical mentions
Category : Fiction
Publics : All audiences
Festival format : 15 minutes
TV Format : 26 minutes
Film holder : HD 1080p
Broadcast medium : DCP, Cinema HD file / Télévision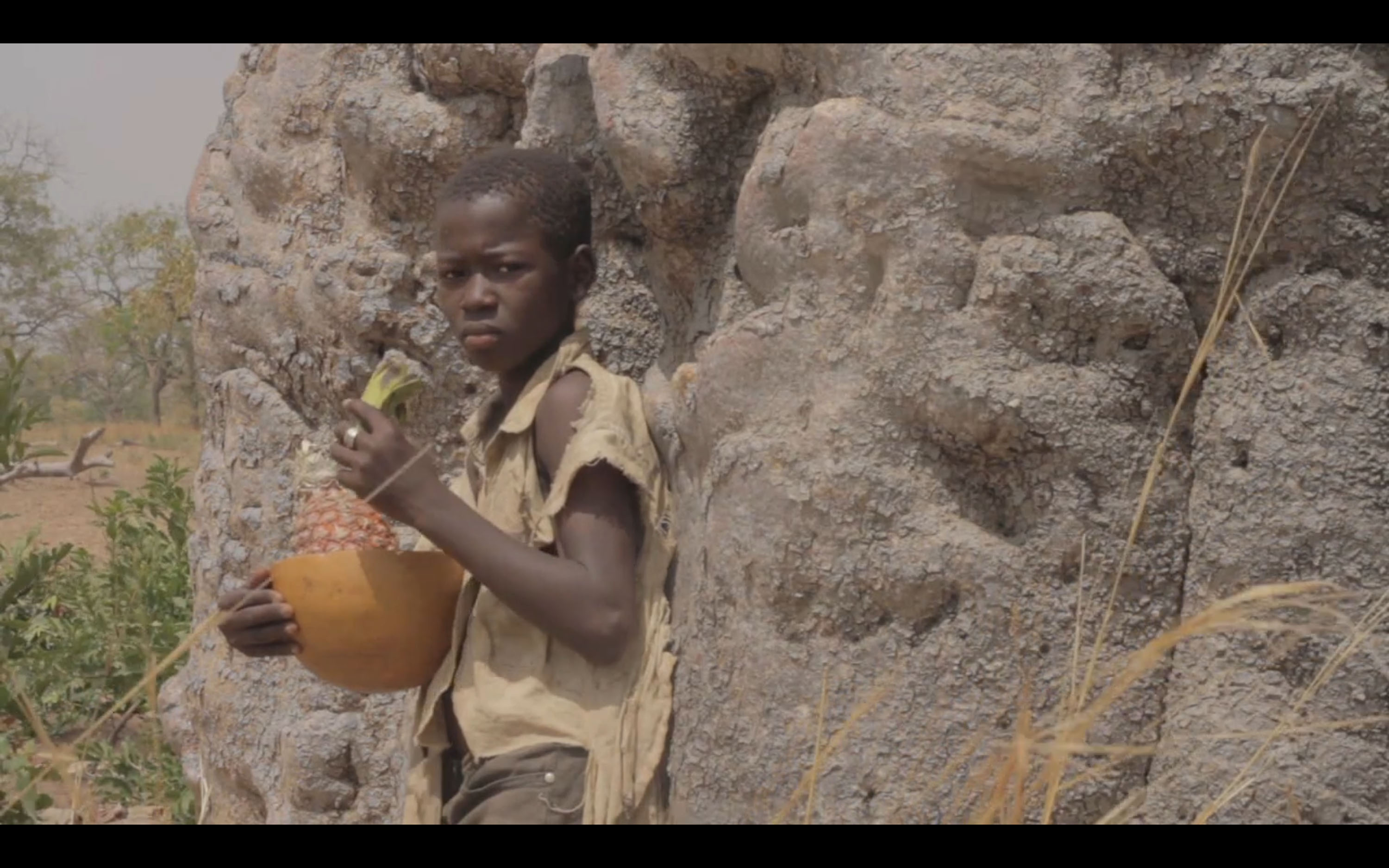 Synopsis
Abu works hard in the fields while he was picked up by his aunt and son Yaya on a farm not far from Tengrela Lake. Every day, Abu and Yaya are faced with the same ritual: "Wash your hand in oil, wash your hand in water: whoever has the dry hand will eat the Tô!" Under the sun, Abu's hand, full of oil, remains cruelly moist while the woman and her legitimate son eat quietly. On an empty stomach, Abu fled to the bush to seek advice from the Hippopotamus…
A participatory project
Abou L'Orphelin starts from the desire to showcase a certain culture of south-west Burkina, in the region of Banfora. A cultural heritage mainly transmitted orally from generation to generation and that deserved to be valued in a film. It was important to base the script on the local cultural soil and so we worked around writing workshops with the children of the village around the imaginary tales transmitted by the parents and grandparents. Very soon the figure of the orphan affected by hunger appeared.
As in any oral tradition, there are dozens of versions of the same tale: we have made a synthesis of it and then I have adapted this story to the conditions of reality.
TV broadcast
TV5 MONDE (France, Belgique, Suisse, Afrique)
RTBF (Belgique)
TNB (Burkina Faso)
Award
"Prix de l'Enfance" at the "Le Temps Presse" festival chaired by Costa-Gavras, awarded by the City of Paris and the Principality of Monaco.
Selected
Rwanda Film Festival, Festival Ciné Droit Libre (Ouagadougou), Festival Ciné-Voyageurs, Festival Armoricourt, Seoul International Youth Film Festival (SIYFF), Colours of the Nile Festival (CONIFF Ethiopie)…